Each year, the host chapter works hard to create teaching resources and other goodies to sell in the Keetman Boutique. A portion of the proceeds goes to the Gunild Keeman Assistance Fund that provides financial aid to AOSA members who are interested in furthering the growth of Orff Schulwerk. These persons must need financial aid to further their education in Orff Schulwerk or to develop a valid, creative project. It is reserved for uses and benefits associated with Orff Schulwerk.
Conference T-shirts: Order now and your short-sleeve Conference T-shirt will be waiting for you at the Keetman Boutique in Fort Worth. Take a look at the designs and use this information to place your order. We only order a few extras so don't wait!
For this year's conference, the North Texas Chapter has done some creative legwork to offer a boot-ique of artfully-painted cowboy/girl boots that will be for sale in the Boutique in the Exhibit Hall. Pick out your favorite from the video below…and be sure to get to the Boutique early in the conference before these boots go walkin'!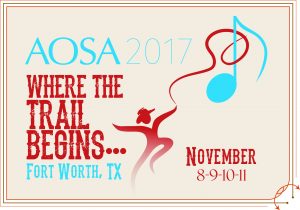 <!~- end page-content -->