Timeline of AOSA: 1968 – 2018
Association History Leadership History Conference History
Conference History
April 17-19, 1969. Muncie, Indiana, Pittenger Student Center, Ball State University
Guest presenters: Doreen Hall, Arnold Walter (Univ. of Toronto)
Chair: Arnold Burkart

---
April 24, 26, 1970. Cincinnati, Ohio, University of Cincinnati College-Conservatory of Music
Guest presenters: Jos Wuytack (Belgium), Isabel Schack, Miriam Samuelson (Orff Institute)
Chairs: Arnold Burkart (national), Dr. Elizabeth Taylor (local)

---
April 23-25, 1971. Memphis, TN, Memphis State University
Guest presenter: Daniel Hellden (Sweden)
Chairs: Ruth Pollock Hamm (national), Nancy Ferguson, Konnie Koonce (local)

---
April 14-16, 1972, Chicago, IL, University of Chicago Laboratory School and Center for Continuing Education
Guest presenter: Barbara Haselbach (Orff Institute – Movement)
Chairs: Ruth Pollock Hamm (national), Jacobeth Postl (local)

---
April 5-8, 1973, Minneapolis, MN, Radisson Hotel
Guest presenter: Jos Wuytack
Chairs: Konnie Koonce Saliba (national), Jane Frazee, Arvida Steen (local)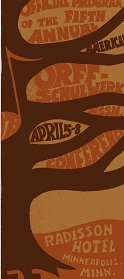 ---
March 28-31, 1974, Boston, MA, Sheraton Boston Hotel
Guest presenter: Dr. Hermann Regner (Orff Institute, Salzburg)
Chairs: Konnie Koonce Saliba (national), Edna Geary (local)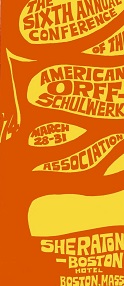 ---
November 14-17, 1974, Denver, CO, Cosmopolitan Hotel
Guest presenters: Helder Parente-Possoa (Brazil), Louis Ballard (American Indian music/culture), Claude Caux (mime)
Chairs: Jacobeth Postl (national), Barbara Grenoble, Edith Morris (local)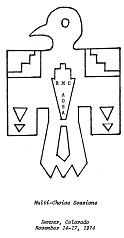 ---
 April 10-13, 1975, Pittsburgh, PA
Guest presenters: Trude Hauff (Sweden), Doreen Hall (Univ. of Toronto), Lisa Parker (Dalcroze)
Chairs: Jacobeth Postl (national), Jean Wilmouth (local)

---
November 13-16, 1975, Detroit, MI, Sheraton-Cadillac Hotel
Guest presenters: Ellen Stekert (folklorist), Barbara Mettler, Bessie Jones
Chairs: Jane Frazee (national), Peg Van Haaren (local)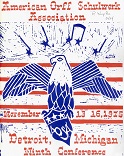 ---
November 10-14, 1976, Los Angeles, CA, Biltmore Hotel
Guest presenters: Jos Wuytack (Belgium), Emil Richards (percussion); Tommy and Katie McGloughlin (mime), Elizabeth Waldo (Southwest music/culture)
Chairs: Nancy Ferguson (national), Millie Burnett (local)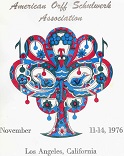 ---
November 9-13, 1977, Washington, D.C., Sheraton-Park Hotel
Guest presenters: Barbara Haselbach (Orff Institute), Dorothy Heathcote (England-creative drama), Doreen Hall (Univ. of Toronto), Helen Kemp (children's choral), Claus Bang (music therapy), Keith Bissell (composer)
Chairs: Mary Shamrock (national), Brigitte Warner, Phyllis Arner (local)

---
November 2-5, 1978, St. Louis, MO, Chase Park Plaza Hotel
Guest presenters: Wilhelm Keller (Orff Institute), Phyllis Weikart (folk dance), Clive Robbins (deaf communication), Jimmy Driftwood (Ozark folk music)
Chairs: Lillian Yaross (national), Cordelia Stumberg (local)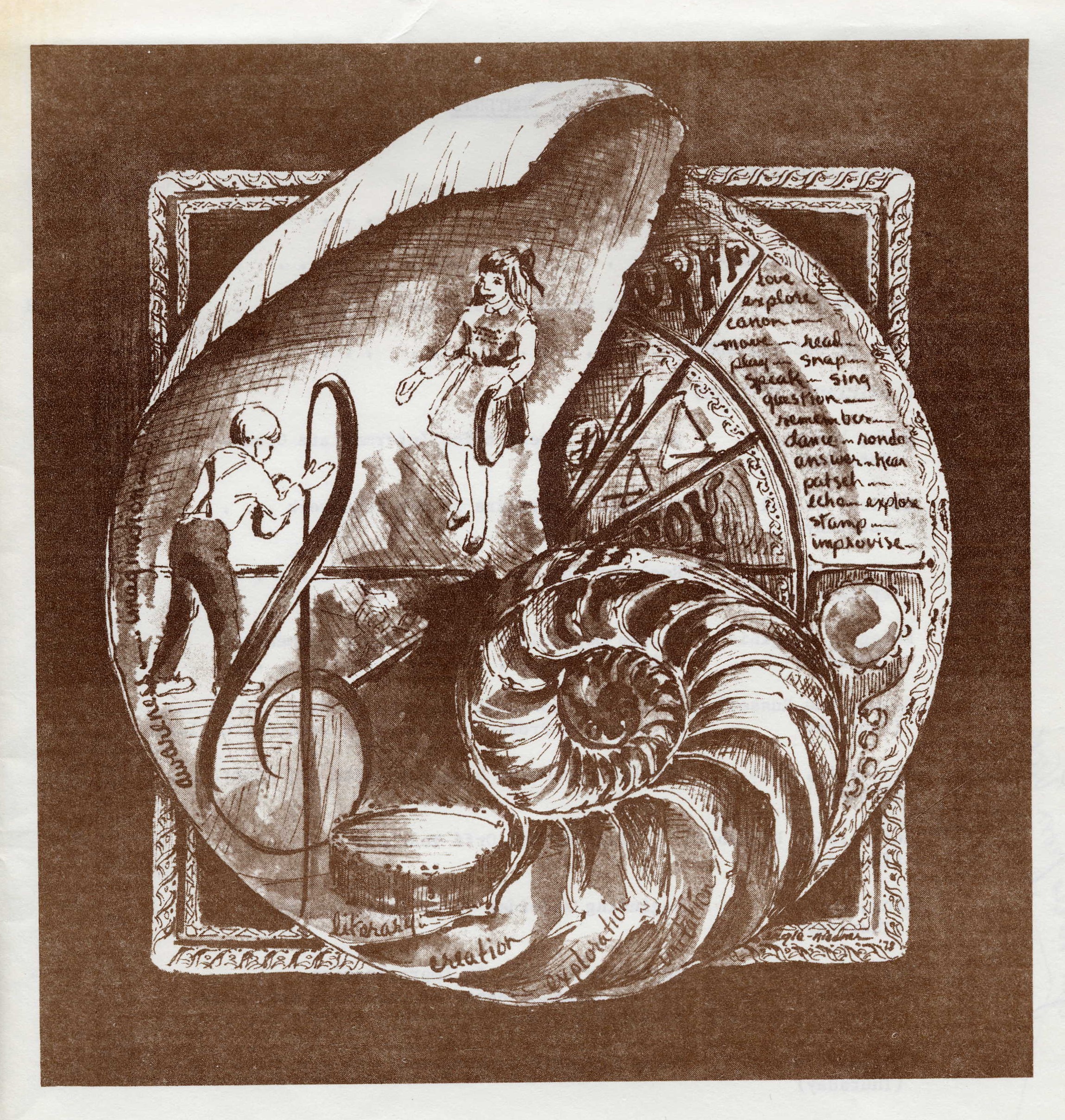 ---
 November 14-18, 1979, Phoenix, AZ, Del Webb's Townehouse
Guest presenters: Jos Wuytack, with extension by 15 AOSA teachers, plus sessions devoted to Southwest traditions
Chairs: Arvida Steen (national), Vivian Burgmeier (local)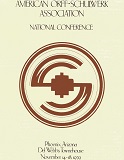 ---
November 6-9, 1980, Pittsburgh, PA, William Penn Hotel – Focus on Folklore
Guest presenters: David Holt (Southern mountain music), Jester Hairston (African American slave song), Heidi Weidlich (Orff Institute), Lynn Rubright (creative drama)
Chairs: Millie Burnett (national), Jean Wilmouth (local)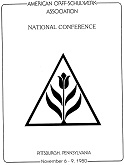 ---
November 11-15, 1981, Albuquerque, NM, Convention Center – Orff Schulwerk: Land of Enchantment
Guest presenters: Daniel Hellden (Sweden), Helen Kemp (choral music); Athan Karras (Greek dance); Phyllis Weikart (movement/folk dance)
Chairs: Carolyn Tower (national), Virginia Ebinger (local)

---
 November 3-7, 1982, Portland, OR, November 3-7, Jantzen Beach Red Lion Inn – A Cultural Kaleidoscope: Integrating the Arts
Guest presenters: Richard Gill (Australia, Orff Institute), Susan Cambigue (movement/dance), Wayne Cook (drama), Scott McKay (mime), Mara Stahl (puppetry), Lee Hanson (visual arts)
Chairs: Jan Rapley, Nedra Schnoor (national), Sr. Christine Weber (local)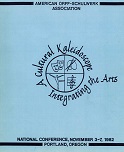 ---
November 2-6, 1983, Cleveland, OH, Stouffer's Inn-on-the-Square – North Coast Soundings
Guest Presenters: Barbara Haselbach (Orff Institute), W.K. Amoaku (African music/Schulwerk), Tony Barrand (Morris/English folklore), Shelley Gruskin (recorder), Arpad Darazs (children's choral)
Chairs: Judith Thomas (national), Betty Jane Lahman (local)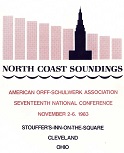 ---
November 7-11, 1984, Las Vegas, NV, Sahara Hotel – Destination Improvisation
Guest presenters: Verena Maschat and Miriam Samuelson (Orff Institute), Minna Ronnefeld (Denmark), Cynthia Campbell (Canada), Daniel Hellden (Sweden)
Chairs: Virginia Ebinger (national), Gloria Fuoco-Lawson (local)

---
October 23-27, 1985, Kansas City, MO, Radisson Muehlebach Hotel – Heartland Horizons; the Future of Music Education
Guest presenters: Michael Lane (England), Alice Parker (composer/conductor), Edwin Gordon (music learning theory), Phillip Rhodes (composer)
Chairs: Judy Bond (national), Joy Browne, Karen Logbeck (local)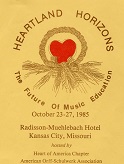 ---
November 5-9, 1986, Boston, MA, Sheraton-Boston Hotel – The Spirit of '86: An American Evolution
Guest presenters: John Langstaff and "Revels;" James Horvath, Helen Kemp (children's choral)
Chairs: Pat Hamill, Marion O'Connell (national), Pat Browne, Carolee Stewart (local)

---
November 11-15, 1987, Chicago, IL, Hyatt Regency O'Hare – The Chicago Connection: The Artistic Child
Guest presenters: Jos Wuytack (Schulwerk), Dr. John Fines (creative drama), Hardin Minor (creative movement), Jean Sinor (Kodaly), Helen Kemp (child voice)
Chairs: Carol Huffman (national), Sharon Fiedler, Judith Kirby (local)

---
 November 9-13, 1988, Detroit, MI, Westin Hotel-Renaissance Center – Watercolors: An International Palette
Guest presenters: David Booth (drama); Duo Mediterraneo (Greek & Arabic music); Jill and Michael Gallina (choral, drama); David Holt (Appalachian music/culture); Gerald McDermott (author/illustrator); Minna Ronnefeld (Denmark—Schulwerk); Murray Schafer (composer)
Chairs: Donna Monticello, Carolyn Tower (national), Marilyn Collins, Claudia Spring (local)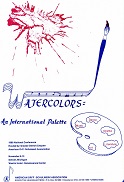 ---
November 8-12, 1989, Atlanta, GA, Hyatt Regency Hotel – A Southern Jubilee
Guest presenters: Jean Ritchie (Appalachian music/culture), Georgia Sea Island Singers (African American song/history), David Holt (Southern traditional music/culture), Dr. John Fines (drama), Hesperus (early and traditional instrumental), Wolfgang Hartmann (Austria – creative Schulwerk)
Chairs: Beth Miller (national), Frederica Thames, Sharon Vrieland (local)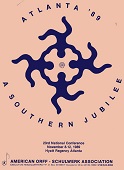 ---
November 7-11, 1990, Denver, CO, Sheraton & Hyatt Hotels, Denver Tech Center – Colorado Collage: Celebrating Music and Language through Orff Schulwerk
Guest Presenters: Barbara Haselbach (Orff Institute – integrating arts), Miriam Samuelson (Orff Institute – recorder), Ron and Marsha Feller (integrated arts), Gerald McDermott (author/illustrator), Opalanga Pugh (storytelling); Dee Coulter (child development)
Chairs: Ruth Ann Chiaraluce, Douglas Wilson (national), Gwen Mickle, Meg Worth (local)

---
November 13-17, 1991, San Diego, CA, Towne and Country Hotel/Convention Center – Pacific Fusion: Embracing Music Cultures through Orff Schulwerk
Guest Presenters: Performers, artists, and ethnomusicologists offering knowledge and hands-on sessions on music and traditions of cultures including the following: Ghana, Uganda, Sierra Leone, Netherlands Antilles, Denmark, Japan, New Zealand, Mexico, Bulgaria, Indonesia (Java & Bali), Japanese-American (Taiko), Polynesia, Greece, Andean region, and more.
Chairs: Mary Shamrock (national), Gloria Ensign (local)

---
November 4-8, 1992. Minneapolis, MN, Hyatt Regency and Park Inn International – Northland Voyage: Exploring Sources and New Directions
Guest Presenters: Paul Winter ("Earth Music") plus Glen Velez and Paul Halley, Libby Larson (composer), Eva Legene (recorder), Richard Gill (Australia), Verena Maschat (Austria), Peter Sidaway (Schulwerk-England) Gerardo Dirie (composer)
Chairs: Carolee Stewart (national), Randy Edinger, Hilree Hamilton, Pat Rice (local)
---
November 10-14, 1993. Indianapolis, IN, Westin Hotel – The Drum, the Voice, the Dance 25th Anniversary Conference
Guest presenters: Glen Velez (frame drum), Henry Leck (children's choral), Peter Sparling (dance/choreography), Jos Wuytack (Belgium, Schulwerk)
Special honor presenters: AOSA founding members–Isabel Carley, Wilma Salzman, Jacobeth Postl, Ruth Pollock Hamm, Elizabeth Nichols
Chairs: Douglas Wilson (national), Judith McMillen (local)
---
November 9-13, 1994. Philadelphia, PA, Adams Mark – A Declaration of Interdependence!
Guest presenters: Bryan Burton (Native American music/culture), Bob deFrece (Canadian/US folk material) Marie-Louise Hatt-Arnold (Dalcroze), John Feierabend (Early Childhood), Kim and Reggie Harris (Underground Railroad), Andre de Quadros (Australia), Mitzie Collins (Shaker music), Arthur Hall (African-American dance), Clyde Morgan (Afro-Brazilian music/dance), James Litton (children's choral)
Chairs: Karen Medley, Richard Watt (national), John Bednar, Rose Grelis (local)

---
November 8-12, 1995. Dallas-Fort Worth, TX, Airport Hyatt Hotels – Tapestry of Time: A Centenary Celebration
Guest presenters: Heather McLaughlin (Australia – marimba), Wolfgang Stange (London – movement with able and disabled), Sharon Grady (creative drama), David Elliot (Music Education philosophy), Will Schmid (MENC president/drumming), Barbara Haselbach (Orff Institute/interdisciplinary), Wolfgang Hartmann (Austria/Schulwerk and instrumental)
Chairs: Judith Cole, Janet Robbins (national), Jan Baker, Chris Judah-Lauder (local)

---
November 13-17, 1996. Memphis, TN, Cooke Convention Center and Crowne Plaza Hotel  – Bridging Traditions: A Memphis Montage
Guest presenters: Susie Davis (Australia), Clea Galhano (advanced recorder), Will Schmid (Blues/drumming), Judy Sills (Canadian materials), Wolfgang Stange (creative environment), Jos Wuytack (Belgium/Schulwerk), Lynn Jessup (world culture materials), Ulrike Jungmair (Orff Institute), Marta Sanchez (eurythmics), Ron Theisz (Native American music/culture), Dudu Tucci (Brazil – samba, drumming, song)
Chairs: Karen Medley (national), Carol King, Susan Van Dyck (local)

---
November 5-9, 1997. Seattle/Bellevue, WA, Meydenbauer Convention Center – Northwest Horizons Exploring the Elements
Guest presenters: Phong Nguyen (Vietnamese music/culture), Christoph Maubach and John Madin (Australia), Manuela Widmer (Orff Institute), Arthur Hull (drum circles), Doug Ahlstedt (classroom opera), Henry Leck (children's choral), John Tyson (recorder), John Feierabend (Kodaly)
Chairs: Douglas Wilson (national), Diane Graham, Donna Poppe (local)

---
November 11-15, 1998. Tampa, FL, Tampa Convention Center, Hyatt Regency at Tampa City Center, Wyndham Harbour Island Hotel – The Sun, the Source, the Schulwerk
Guest presenters: Peter Sidaway (England), Shirley Salmon (Carl Orff Foundation), Hesperus (Medieval/Appalachian ensemble), Joyce Jordan (early childhood), Nikola Clay (West African song/dance)
Chairs: Betty Jane Lahman (national), Debbie Clifton, Donna Dixon (local)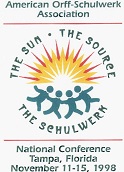 ---
November 3-7, 1999. Phoenix, AZ, Phoenix Civic Plaza and Hyatt Regency Phoenix – Music for All Ages: Southwest Renaissance
Guest presenters: Richard Gill (Australia), Wolfgang Hartmann (Austria), Dorita Berger (music therapy), Frances Rauscher (brain research), Robert Cutietta (music/academics), Ursula Rempel and Carolyn Kunzman (Canada –Medieval/Renaissance Dance), Gary King (Australian Dance) Chairs: Del Bohlmeyer, Richard Watt (national), Cathleen Brock, Jon Sywassink (local)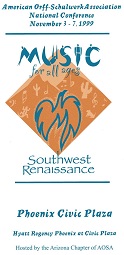 ---
November 8-12, 2000. Rochester, NY, Riverside Convention Center – Overture: Reflections of the Past, Focus on the Future
(Preceded by AOSA Symposium 2000: Orff Schulwerk in Life-Long Learning, Nov. 7-8)
Guest presenters: Jean Ashworth Bartle (Toronto – children's choral), David Darling (cellist, composer – improvisation), John Feierabend (early childhood), Clea Galhano (recorder), Christoph Maubach (Australia) Soili Perkio (Finland) Wolfgang Stange (England), Glen Velez (frame drumming), Paul Winter, Jos Wuytack (Belgium), Mary Alice and Peter Amidon (traditional dance)
Chairs: Kay Lehto, Karen Medley (national), Maureen Oser, Jessie Vance (local)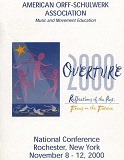 ---
November 14-18, 2001. Cincinnati, OH, Cincinnati Convention Center, Hyatt Regency Cincinnati, the Millennium Group – Fountain of Creativity
Guest presenters: Wolfgang Hartmann (Austria), Reinhold Wirsching (Orff Institute), Virginia Mead (Dalcroze), Mary Adamek (Pres. Of AMTA), Nikola Clay and Jason Hann (West African song/dance)
Chairs: Rosemary Koepfle (national), Peggie True (local)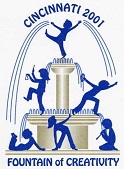 ---
November 6-10, 2002. Las Vegas, NV, Riviera Hotel and Conference Center – Desert Rhapsody: Images in Sound and Motion
Chairs: Joan Middlebrook, Sue Mueller (national), Rossanna Arager, Sue Loser (local)

---
November 12-16, 2003. Louisville, KY, Kentucky International Convention Center, Galt House – Run with your Imagination: A Bluegrass Celebration
Guest presenters: Jean Ritchie, John Edward Niles (son of John Jacob), John Krumich, YaYa and Darlene Dlallo (African drumming), Carol Richards (Australia), Werner Beidinger, Ruth Dwyer (choral), Ron Pen (shape note singing) Robert Duke, Pat Shehan Campbell
Chairs: Rob Amchin, Timothy Brophy (national), Gina Eberenz, Alice Wells (local)

---
November 10-14, 2004. Long Beach, CA – Rhythms of Life, Oceans of Voices
Guest presenters: Peter & Mary Alice Amidon (dance), Anne Tomlinson (children's choral), Paula Bing (Lincolm Center Institute educator), Jason Hann (West African drumming), Merja Soria (Finland), Martyn Heath (New Zealand, Komla Amoaku (Ghana)
Chairs: Kay Lehto, Patty Reed (national), David Connors, Lynn Halterlein, Alex Morales (local)

---
November 9-12, 2005. Birmingham, AL, Birmingham Jefferson Convention Center – Southern Harmony: Many Voices, One Spirit
Guest Presenters: Werner Beidinger (Germany), Andrea Ostertag (Orff Institute), Jos Wuytack (Belgium), Vyatcheslav Zhilin (Russia), William Powell (gospel choral)
Chairs: Shirley McRae, Vivian Murray (national), Marsha Alexander, Melanie Harris (local)

---
November 8-11, 2006. Omaha, NE, Quest Center Omaha, Doubletree Hotel, Hilton Omaha Convention Center Hotel – Seeds of Discovery: A Great Plains Harvest
Guest Presenters: Christa Coogan (Austria), Soili Perkio (Finland), Reinhold Wirsching (Austria), the Shenanigan
Chairs: Donna Staton (national), Karen Benson, Shelly Smith (local)

---
November 14-17, 2007. San Jose, CA, San Jose McEnery Convention Center, Sainte Claire, San Jose Marriott, Hilton, and Civic Auditorium – The Art of Play
Guest presenters: Dee Joy Coulter (child development), J.S. Kofi Gholonyo (Ghana), Clea Galhano (recorder), Wolfgang Hartmann (Austria), Verena Maschat (Spain), Sofia Lopez-Ibor (Spain), Andrea Ostertag (Australia), Wolfgang Stange (England), Keith Terry (body percussion)
Chairs: Karen Medley (national), James Harding, Heidi Tzortzis (local)

---
November 12-15, 2008. Charlotte, NC, Charlotte Convention Center, Westin, Hilton – Patschwerk of Possibilities
Guest presenters: Jos Wuytack (Belgium), Jon Madin (Australia), Saskia Beverloo, Alena Holmes, Maria Speth, Johannes Schussel, David Holt, Matt Savage, Marie McCarthy, Mary Alice and Peter Amidon (dance), Raymond Wise, Hobey Ford
Chairs: Diane Sabourin, Jessie Vance (national), Jane Hoch, Noreen Hofmann (local)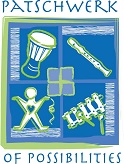 ---
November 11-14, 2009. Milwaukee, WI, Midwest Airlines Center, Hilton, Hyatt Regency – Great Lakes, Great Traditions
Guest presenters: Libana, Sanna Longden (folk dance), Will Schmid (NAfME)
Chairs: Brian Burnett, Chris Judah-Lauder (national), Judy Brauer, Mary Lea Clark (local)

---
November 3-6, 2010. Spokane, WA, Spokane Convention Center – Rhythms of the River, Flowing from the Source
Guest presenters: Ranier Kotzian (Orff Institute), Paul Winter, Glen Velez/Lori Cotler, Peter and Mary Alice Amidon (traditional dance)
Chairs: Sue Mueller (national), Karen Baldwin, Linda Hohn (local)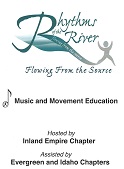 ---
November 9-12, 2011. Pittsburgh, PA, David L. Lawrence Convention Center – Neighbors in Harmony Creating Connections
Guest presenters: Das Collectif (Orff Institute), Rollo Dilworth (children's choral), Nina Stern (Recorders), Stephen Neely (Dalcroze), Sanna Longden (folk dance)
Chairs: Alice Pratt, Diane Sabourin (national), Robin Brian, Billie Hollenbaugh (local)

---
November 14-17, 2012. St. Louis, MO, America's Center – St. Louis – Gateway to Exploration
Guest Presenters: Andrea Ostertag (Orff Institute), Soili Perkio (Sibelius Academy, Finland)
Chairs: LuAnn Hayes, Joan Stansbury (national), Sue Phillips, Mimi Steele (local)

---
November 13-16, 2013. Denver, CO, Hyatt Regency Denver, Colorado Convention Center "Rocky Mountain Rendezvous"
Guest Presenters: Rodrigo Fernandez (Germany), Robyn Staveley (Australia), Dee Coulter (music development)
Chairs: Douglas Wilson (national), Barbara Pierpoint, Judy Sapegin (local)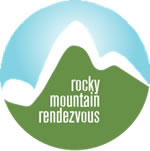 ---
November 5-8, 2014. Nashville, TN, Renaissance Nashville Hotel & Convention Center – Music City Montage
Guest Presenters: Lenka Pospisilova (Czech Republic), Kalani (drumming), Jim Solomon (drumming)
Chairs: Tiffany English, Alice Pratt (national), Susan Ramsay, Mimi Hamilton (local)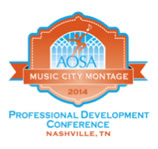 ---
November 11-14, 2015. San Diego, CA November 11-14, Towne & Country Hotel and Convention Center – Waves of Learning
Guest Presenters: Estevao Marques (Brazil), Clea Galhano (recorder), Jackeline Rago (Venezuela)
Chairs: Rhonda Greeson, Kay Lehto (national), Sheryl Lloyd, Linda Lungren (local)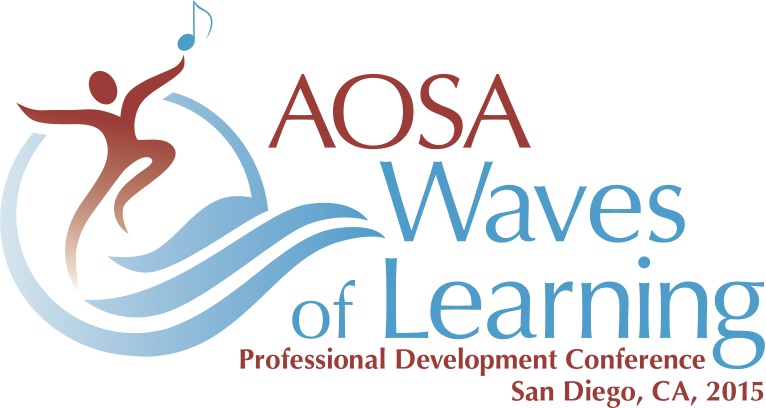 ---
November 2-5, 2016. Atlantic City, NJ, Atlantic City Convention Center and the Sheraton Atlantic City – Sailing the Seven C's
Guest Presenters: Jim Solomon (drumming), Mary Alice and Peter Amidon (movement), Crista Coogan (Austria)
Chairs: Jennifer Donovan, Sue Mueller (national); Lori Arner, Jennifer Sheridan (local)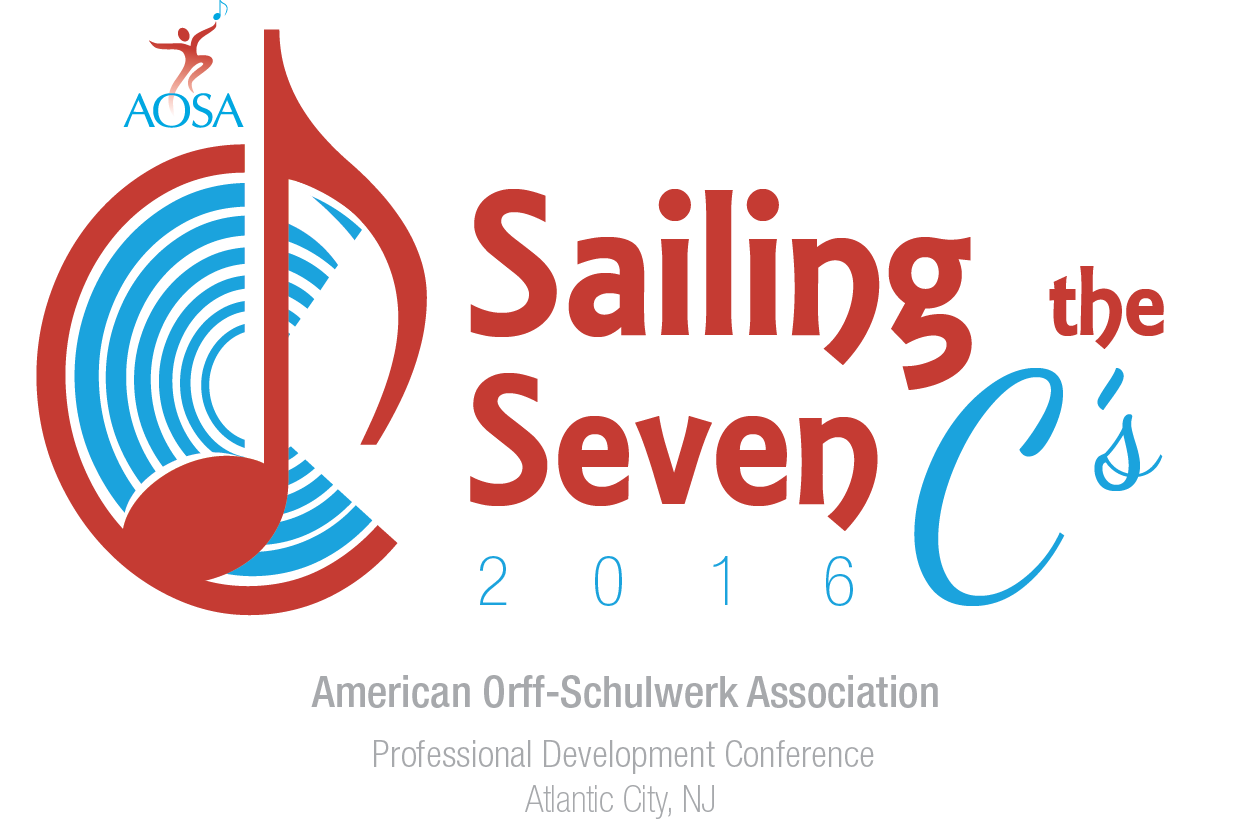 ---
November 8-11, 2017. Fort Worth, TX, Fort Worth Convention Center – Where the Trail Begins…
Guest Presenters: Jeremy Cohen (drumming); Shirley Salmon (Austria), Kris Olson (early childhood/Morris dancing)
Chairs: Karen Benson, Chris Judah-Lauder (national), Jan Baker, Kathy Draves (local)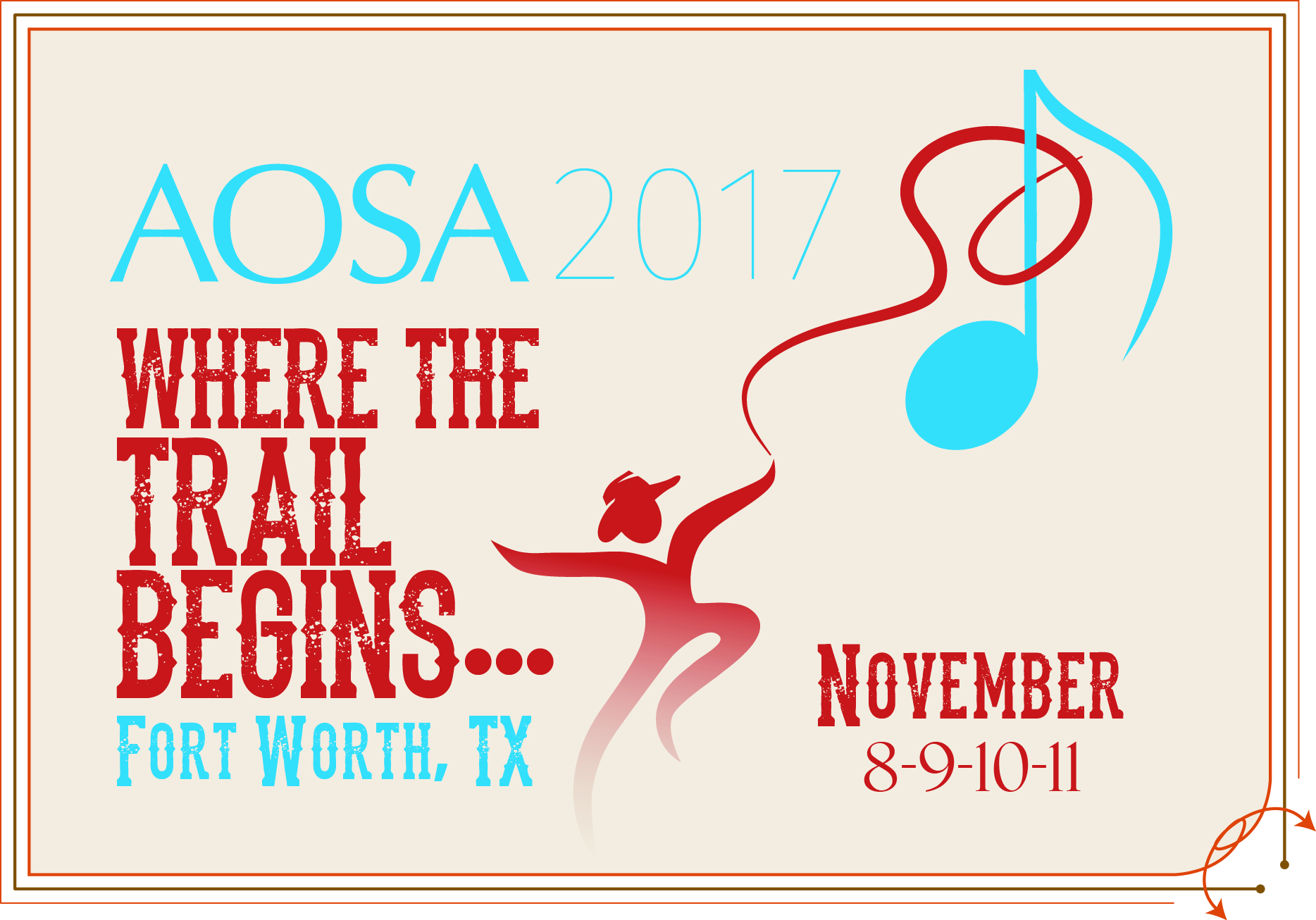 ---
November 7-10, 2018. Cincinnati, OH, Duke Energy Center – 50th Anniversary Celebration
Guest Presenters: Richard Gill (Australia), Angela and Jay Broeker, Jim Solomon (drumming), Chris Judah-Lauder (drumming), Mary Alice and Peter Amidon (traditional dance), Rene Boyer (gospel/spirituals)
Chairs: Sarah Fairfield, Al Heary (national), Lissa Ray, Leslie Hicks (local)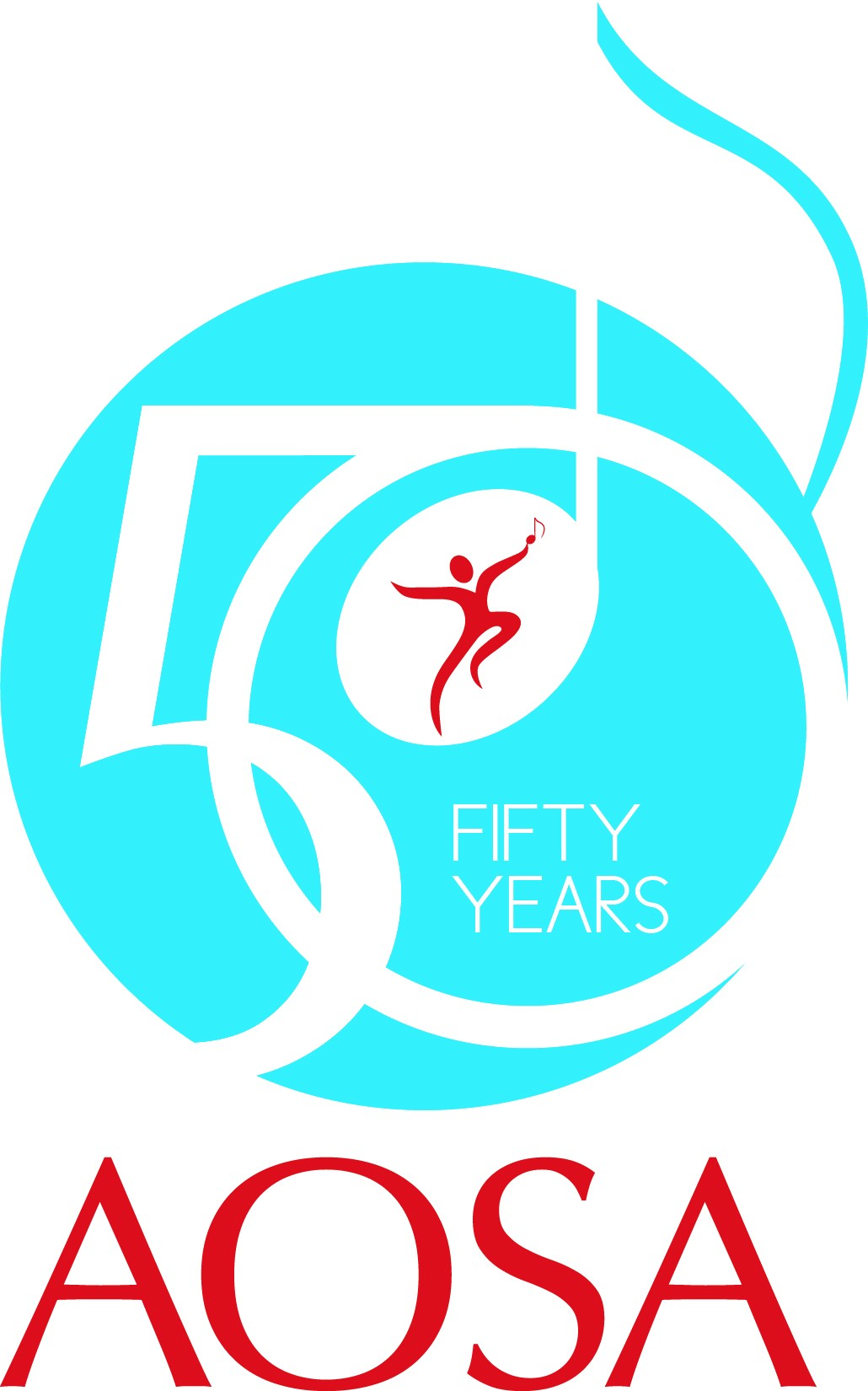 Prepared by the History Sub-Committee, M. Shamrock, Chair

<!~- end page-content -->