Registration is now open through October 15, 2019.
Log-In to the new AOSA Member Portal to register.
For more conference details and schedule,
download the AOSA app on your phone or tablet.
Check out the complete conference schedule so you'll be ready to register
REGISTRATION PRICES
Registration Categories
Early Registration
July 22 to Sept. 5
Beginning at 6am EDT
Pre-Registration
Sept. 6 to Oct. 15
Ending at 11:59pm PDT
On-site Registration
Nov. 20‐23
Beginning at 5pm, Nov. 20
Member
    Full registration
$299
$309
$415
    Two days
$230
$260
$320
    One day
$140
$160
$195
Student/Retired Member
    Full registration
$180
$200
$250
    Two days
$140
$160
$195
    One day
$75
$95
$115
Non‐member
     Full registration
$600
$640
$800
     Two days
$460
$500
$750
     One day
$280
$315
$385
Conference registration includes all sessions and events except the Alliance for Active Music Making Symposium on Wednesday and the AOSA Banquet on Saturday evening.
Membership in AOSA, Carl Orff Canada, or another Orff Schulwerk Forum member organization is required to receive member pricing.  To become an AOSA member, join today. 
Cancellation Policy: Refund requests must be submitted in writing by fax, 440.600.7332, mail to AOSA Headquarters, or e‐mailed to service@aosa.org no later than October 30. Refunds will be assessed a $50 processing fee.
————————————————————————————————-
CONFERENCE EXTRAS
Banquet $65
Enjoy a relaxed evening with a social hour, dinner, and dancing on Saturday, November 23. Purchase your ticket when you register, then make advanced seating reservations through a special link in October.
Guest Badge $35
The guest badge allows access to all non-ticketed events including the Welcome Ceremony, evening performances and events, children's performances, and the AOSA Marketplace.A paid registration is required to purchase a guest badge. Provide the name of your guest when you register.
Printed Session Notes $30
Printed session notes are available for order through the close of pre-registration. The binder includes all notes submitted by presenters prior to October 1.  Complimentary session notes are available online.
Alliance for Active Music Making Symposium $30
Wednesday, November 20, 1pm-5pm – Preparing the Next Generation of Music Teachers: Speakers Nicole Robinson, Jared Rawlings, Brittany May, and Patrick Ware explore the theme of Inclusivity for music education majors. Time for sharing and reflection included.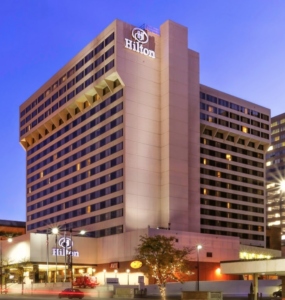 Lodging

Hilton Salt Lake City Center
Book Here
255 S W Temple
Salt Lake City, UT 84101

$179+/up to 4 occupancy
Free wifi in guest rooms

Marriott Salt Lake Downtown City Creek
Book Here
75 S W Temple
Salt Lake City, UT 84101

$179+/up to 4 occupancy
Free wifi in guest rooms

Questions?
PHONE: 440.600.7329
E-MAIL: service@aosa.org

<!~- end page-content -->