Exhibitor and Exhibit Hall Information
Discovered new lessons and music in a session? See a teaching aide that your students will love? Need to expand your instrument inventory? A trip to the Exhibit Hall will help you find all of these and so much more! AOSA's Music Industry members come together every year to supply the products you need to provide the best instruction for your students.
Exhibit Hall Times
Thursday, 11/14, 5:30 – 7:30 P.M. Exhibit Hall Grand Opening

Friday, 11/15, 9:00 a.m.–6:00 p.m.
Unopposed: 11:00 a.m.–12:30 p.m. and 2:30–3:45 p.m.
Saturday, 11/16, 9:00 a.m.–2:00 p.m.
Unopposed: 9:15 a.m.–10:15 a.m. and 11:45 a.m.–1:00 p.m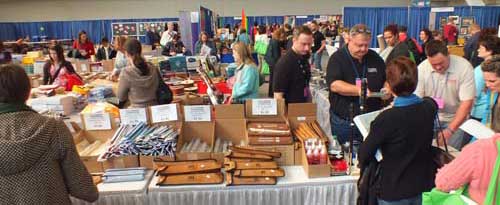 <!~- end page-content -->