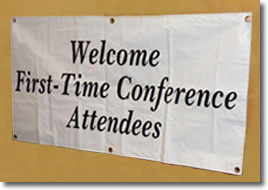 Welcome to the Professional Development Conference of the American Orff-Schulwerk Association! Posted here are step-by-step instructions to complete registration, make hotel reservations, and a few suggestions to help you make the most of conference experience.
On the main conference page, click on Conference Program Guide. This takes you to the Conference Guidebook and the complete conference schedule. You can also download a printable version of the schedule by clicking on the tab at the bottom of the page.
Take time to review the entire schedule and choose 4 sessions each day that you would like to attend. If you are new to Orff Schulwerk, it is highly recommended that you sign up for Intro to Schulwerk, which is offered on Thursday. It is an all-day session, led by top AOSA presenters and gives an excellent overview of the Orff Schulwerk philosophy.
Online registration is open until October 15. Click on the registration link and follow the directions. List the sessions you wish to attend and choose alternate sessions if any of your first choices are full.
You will receive a Registration Confirmation prior to the conference. It will list the sessions you have been assigned to.
At the time of registration you may wish to purchase copies of all session notes. Notes for sessions are also online beginning October 15. Prior to the conference, you may want to download notes for the sessions you will attend. Some presenters also supply additional notes at the time of the session. It is helpful to bring a 3-ring binder to collect session notes.
You need to have a room at the conference site. The conference hotel is the Hyatt Regency Denver at the Colorado Convention Center. There are several Hyatt Hotels in Denver so be sure to use the link provided on the hotel page to get the right hotel. If you would like to share a room, check our Find a Conference Roommate link.
Book your flight as soon as possible to get the best possible fare. Denver is a hub for United, but all major airlines fly into the Denver International Airport. Check our ground transportation link for information on getting to your hotel.
On Wednesday evening, pick up your registration packet outside of the Mineral Ballroom at the Hyatt Hotel. In this packet will be your registration confirmation. This lists all your sessions and serves as your ticket to enter those rooms. In addition to the ticketed sessions, you may attend all of the non-ticketed events, including children's performances, evening concerts, late night folk dancing, and the Exhibit Hall.
Conference days are long, but exciting. Be sure to wear comfortable shoes and dress in layers of clothes. Session rooms may seem cool until you are up and moving.
There will be a short outside walk from hotel to convention center and you may want to visit the 16th Street Mall for places to eat and shop.
WARNING – AOSA Professional Development Conferences are addictive.  They are not dangerous to your health, but provide an inviting atmosphere to learn more about Orff Schulwerk.

<!~- end page-content -->